Our fitness classes can be booked on an individual basis or utilised as part of one of our Monthly Membership packages.
Studio cycle class incorporating interval training methods – climb hills and sprint finishes all to the beat of upbeat tunes in the comfort of our spin studio.
A brand new kind of yoga class that incorporates traditional yoga poses with the use of low hanging silk hammocks to improve flexibility and build strength.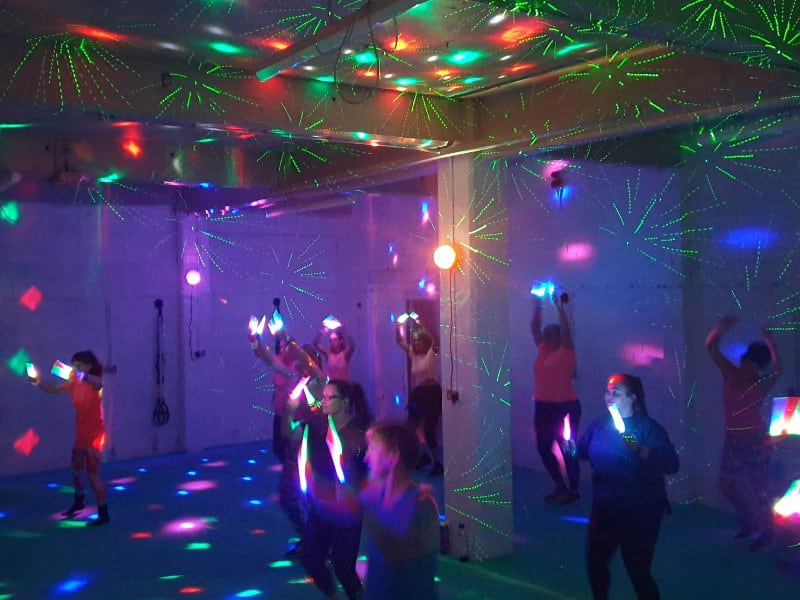 Dark room, disco lights, awesome music from the 80's,90's and 00's right through to current day hits plus easy to follow dance routines!! Why not join us for a party like no other.
Reusable Glow sticks are available to purchase in class or you can bring your own. (Please bring cash to purchase £5).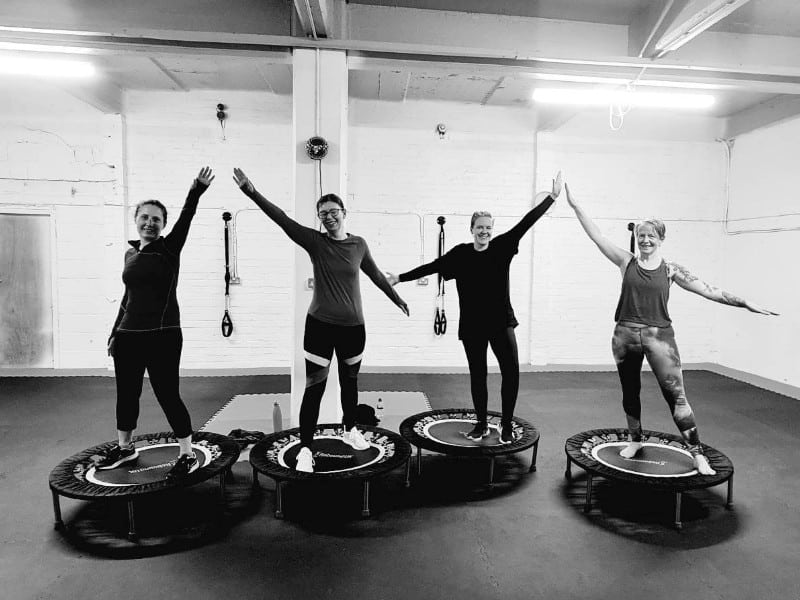 Trampolining is an awesome way to burn serious calories! It's joint-friendly too – taking the impact away from the hard floor and onto the safe, low impact surface of the trampoline, so it's perfect for those who worry about their knees! Bouncing is always fun, but it's tougher than it looks! That's why we keep our Rebound classes to short 30 minute bursts!
Suspension training in the new group format. Combining cardio and strength for an amazing workout. Build strength and muscle tone alongside a top fat burning experience.
If you're looking for a fun way to tone and burn calories, you've found it in Powerhoop! You might not have tried it since you were 8 years old but hoola-hooping is all about the hips and core, so it's great for toning the tummy! Hoola-hooping really is for everybody – and, boy, do we always have a giggle in this class!
A fitness class that makes you feel like a rockstar! Entire body toning, using weighted Ripstix (drumsticks) to tone and sculpt every muscle and problem area. Pound! is a full-body cardio jam session, combining light resistance with constant simulated drumming.
The workout fuses cardio, Pilates, isometric movements, plyometrics and Isometric poses into a 45-minute class. Drum your way to a leaner, slimmer physique – all while rocking out to your favourite music!
More than just abs! Learn how to effectively use all the muscles in your core, bum, hips and back for better strength, control and flexibility.
With a combination of mat based exercises and light weights, this class will transform the way you think about core training.
Build strong foundations that will help reduce injuries, elevate your workouts and improve your quality of life.
Suitable for all ages and abilities including pre and post natal.
Strength training has so many physical and mental health benefits improving your quality of life, and making everyday tasks feel easier.
This class will introduce you to a variety of resistance equipment, whilst improving your overall strength and confidence.
Oh and you'll feel pretty bad ass!
Pilates is a system of controlled exercises that engage the mind and condition the total body. The blend of strength and flexibility training improves posture, reduces stress and creates long, lean muscles without bulking up. Pilates takes a balanced approach so that no muscle group is overworked and the body moves as an efficient, holistic system in sport and daily activity.
Ditch the workout, join the party! It's a calorie-burning dance fitness party! Get ready to shake what ya mamma gave ya with simple choreography to kickin' tunes from all genres that anyone can follow along to. We guarantee you'll leave this class with a big smile on your face!
Glute Band To Music Workout
These unassuming bands will take your squats, bridges, and other exercises to the next level by keeping all three major muscles in your bum – the gluteus maximus, medius, and minimus – firing at once. We then also take this workout to yet another level by creating choreographed workouts to manly 80's and 90's dance hits, guaranteed to make you sweat!!!!
A 30 minute yoga class designed to stretch and strengthen all muscle groups. This is a more relaxed yoga class so is suitable for beginners as well as intermediate levels.
You never know what you are going to get!!!!!!!!!
This class is designed to give you a variety of different Hiit and cardio techniques in every class to keep you motivated and strong.
Legs, Butt, Thigh & Ab Burn
Using a selection of glute bands, weights or your own body weight this intense workout is designed to specifically target the Legs, Butt, Thighs to give you an interval timed, fast paced burn along with a great ab section to finish.
Using both equipment and body weight exercises to improve tone, strength and burn fat. Total body workout!